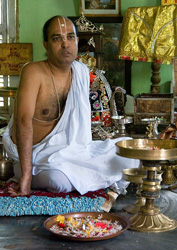 The present Satradhikar of SriSri Auniati Satra, Dr. SriSri Pitambar Dev Goswami was born on 14th June 1959 at Bijoymahora Satra in Duliajan, Upper Assam. His parents, late Deva Kanta Dev Goswami and Srijuta Subhadra Devi belong to the Bijoymahora Satra. Young Pitambar came to SriSri Auniati Satra as Govindapuriya in the year 1969 at the age of ten. During that time SriSri Hem Chandra Dev Goswami was the Satradhikar and young Goswami got his spiritual education and nourishment from him as well as the then Dekasatradhikar SriSri Bishnu Chandra Dev Goswami. His formal primary education started in the primary school of Auniati Satra at Majuli and thereafter he left for Guwahati for higher education. Staying in the cultural and spiritual environment on the bank of the Brahmaputra in the North Guwahati branch of Auniati Satra, young Pitambar completed his matriculation, higher secondary, and bachelor's degree from the Gauhati University. He then completed his Master's degree in Assamese literature from the same University as a private student. During these years Sri Goswami also acquired his Vyakaran Sashtri in the Sanskrit language. After the baikunthaprayan (demise) of SriSri Bishnu Chandra Dev Goswami, SriSri Pitambar Dev Goswami took the nirmali as the 16th Satradhikar of SriSri Auniati Satra in the year 1998. After taking over as head of the Auniati Satra, Sri Goswami took on several projects to give a new direction towards the development of the Satriya culture and Majuli. He revived the age-old Dharma Prakash Yantra from where the second Assamese news magazine Assam Bilasini was published in the year 1872AD by his predecessor SriSri Devdutta Dev Goswami. He successfully invigorated the press with a new establishment under the same name of Dharma Prakash Yantra and published a quarterly magazine called Sanskriti Pallav in the year 2000. Under his able stewardship, the Kaliapani branch of the Auniati Satra was established in the year 2004. He also arranged the celebration of Santa Samaroh at this newly constructed venue to bring together the galaxy of Santas, Satradhikars, and Rishis for a greater cause of peace and humanity. Amid his busy schedule and activities, Sri Goswami also completed his Ph.D. degree in literature for his thesis on Satriya Utsavar Parichoy aru Tatparya Vichar from the Dibrugarh University. Dr. SriSri Pitambar Dev Goswami was invited to join the World Heritage Conference under UNESCO at Lijiang, China in October 2001 where he represented the people of Assam and Majuli and delivered a talk to bring the Satriya culture to the international level. Dr. Goswami has written more than a hundred articles in different magazines and newspapers and has ten dramas and eighteen books to his credit.
Books authored by him are:
1. A brief history of Auniati Satra. 2. Itihasar Samu Dristire Auniati Satra. 3. Natya Geeti Tarangini. 4. Bhagawat Darpan. 5. Dakhin Bharat Tirtha Bhraman. 6. Satriya Utsavar Porichoy. 7. Chinar Lijiangot. 8. Geeta Abhigyan. 9. Alorita Hridayar Shabda (Kabita). 10. Asomor Naam Anusthan. 11. Prativa Bhaskar Srimanta Shankardev. 12. Satria Shabda Kosh. 13. Elective Thoughts 14. The Blazing Talent Srimanta Shankardev. 15. Chinta Vaibhav. 16. Natya Kunja. 17. Bhaonar Shabda Porichoy. 18. Borenya Pratibha Aru Byaktir Byaktitya.
Some important meetings attended:
1. World Heritage Conference (UNESCO) at Lijiang, China as representative of Majuli, Assam, and delivered a speech on 11 October 2001. 2. Speech delivered at Kumbha Mela in Prayag, Allahabad on Dharma Sangsad. 3. Participated to recite poem at National Kabi Sanmilon in Gorakpur, UP. 4. Attended a meeting in Singapore and delivered a speech on vaishnavite culture. 5. Delivered a speech on Majuli Suraksha in Bhopal, MP. 6. Establishment of Naamghar in New Jersey, USA during 2017. 7. Establishment of Naamghar in Dubai during 2022.
Dr.SriSri Pitambar DevGoswami, MA, PhD